2/20/23
NO SCHOOL on Monday 2/20/23.
Animal day is on Thursday 2/23/23, all of Fremont Elementary and STEM Academy will be going to the Weyauwega High School at 9am until 9:30am. Please make sure your child has a jacket along with them as there are some animals that will be located outside.
Order your 22-23 student yearbook here. The yearbook code for Fremont Elementary/Fremont STEM Academy is 13371123. Order deadline is April 7th, 2023.
Registration for youth summer baseball and softball has started! These programs are for ages 3-15. Click the following link for registration information: https://wfyouthsports.com/prog...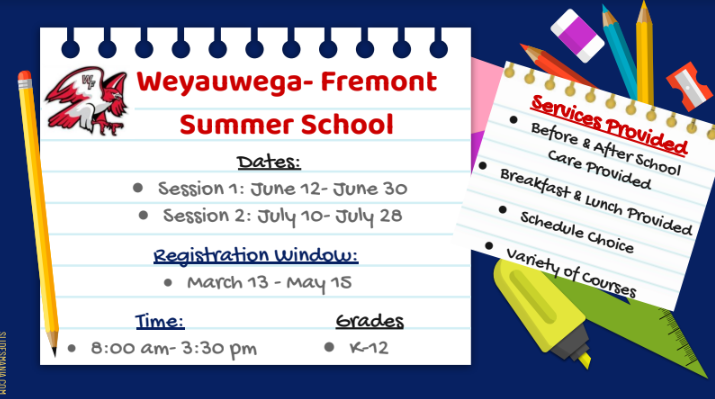 The Little Caesar's PIZZA FUNDRAISER update:
Reminder: This year our Fremont Elementary School goal is to sell 400 pizza kits! As of 2/14/23, we are still under half way there!!!!
If we meet our goal, not only will PTA host a school wide pizza party, but Mr. Ryan has agreed to dress up as the Little Caesar man for the party and one lucky student will be picked from a drawing to get to throw a pie at Mr. Ryan! If your student sells at least ONE pizza kit their name will be entered into this drawing. If you have a family account and one kit is sold, all students in the family will be entered into the drawing.
Set up your account at the link below!
https://fundraising.littlecaesars.com/.../691b1541-9746...
Important upcoming dates:
2/20: No School- Teacher In-Service
2/22: Little Caesar's Pizza Fundraiser ends.
2/22: 3rd-5th grade field trip
2/27: K-8 Science Fair- in the Middle School Commons., at 5:30pm until 7pm. More information on the school website.
2/27-3/3: Read Across America Week
3/2: Read Across America Family Trivia Night
3/9-3/15: Scholastic Book Fair in the Fremont Elementary office during school hours.
3/9: No School- Parent Teacher Conferences
3/10: No School- Teacher In Service
3/14: Mr. Science/Lyceum at the Weyauwega Middle School K-2nd- 9am-10am experience. 3rd-STEM- 1pm-2pm experience.
3/29: End of 3rd Quarter
4/28: Art Show- 5pm-7pm: in the Middle School Commons.
5/5: Color Run