2/27/23
Read Across America week, dress up days

Monday: Mismatch day
Tuesday: Animal day
Wednesday: Red & white day
Thursday: Pajama day- Family Trivia Night, starts at 5:30pm.
Friday: Camo/blaze orange day

There is still time!!! Order your 22-23 student yearbook here. The yearbook code for Fremont Elementary/Fremont STEM Academy is 13371123. Order deadline is April 7th, 2023. There is also hard copy forms in the Fremont Elementary office.
Registration for youth summer baseball and softball has started! These programs are for ages 3-15. Click the following link for registration information: https://wfyouthsports.com/prog...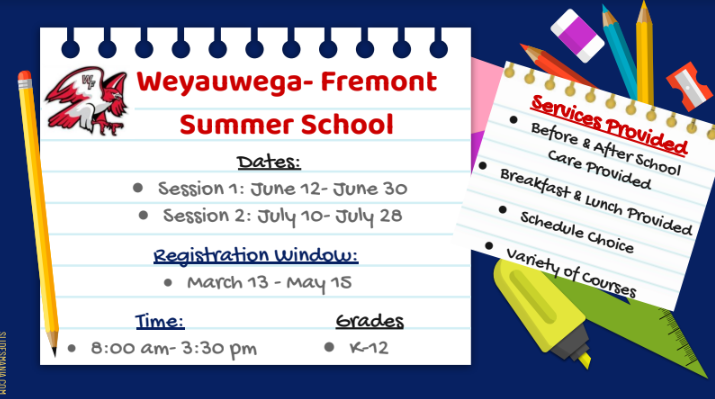 The Little Caesar's PIZZA FUNDRAISER has been extended to March 6th, 2023!!!
Reminder: This year our Fremont Elementary School goal is to sell 400 pizza kits!\
If we meet our goal, not only will PTA host a school wide pizza party, but Mr. Ryan has agreed to dress up as the Little Caesar man for the party and one lucky student will be picked from a drawing to get to throw a pie at Mr. Ryan! If your student sells at least ONE pizza kit their name will be entered into this drawing. If you have a family account and one kit is sold, all students in the family will be entered into the drawing.
Set up your account at the link below!
https://fundraising.littlecaesars.com/.../691b1541-9746...
Important upcoming dates:
2/27: K-8 Science Fair- in the Middle School Commons., at 5:30pm until 7pm. More information on the school website.
2/27-3/3: Read Across America Week
3/2: Read Across America Family Trivia Night
3/6: Little Caesar fundraiser ends
3/9-3/15: Scholastic Book Fair in the Fremont Elementary office during school hours.
3/9: No School- Parent Teacher Conferences
3/10: No School- Teacher In Service
3/14: Mr. Science/Lyceum at the Weyauwega Middle School K-2nd- 9am-10am experience. 3rd-STEM- 1pm-2pm experience.
3/16: 3rd-5th CWES field trip (rescheduled from 2/22)
3/29: End of 3rd Quarter
4/5: No School- Teacher In-service
4/6 -4/10: No School- Spring break
4/28: Art Show- 5pm-7pm: in the Middle School Commons.
5/5: Color Run