3/6/23
No School on Thursday 3/9/23- Parent/Teacher conferences and Friday 3/10/23- Teacher In Service.
There is still time!!! Order your 22-23 student yearbook here. The yearbook code for Fremont Elementary/Fremont STEM Academy is 13371123. Order deadline is April 7th, 2023. There is also hard copy forms in the Fremont Elementary office.
The Book Fair starts on Thursday 3/9/23! The Fremont Elementary book fair will feature books for grades 4K-8th grade. The fair will be open from 8:00 AM - 4:00 PM March 9th-15th (not open on Saturday or Sunday.) All Weyauwega-Fremont families are welcome to stop by the Fremont Elementary office and see what the fair has to offer.
The PTA is looking for your feedback! Please use the link below to take a short survey to help us determine how to best serve the school and our great students! We are hoping to review the results at next month's meeting, so your response is appreciated by 3/12! All survey results are anonymous.
Thank you! https://www.surveymonkey.com/r/BNDS865

Conference specials sign up:
If you would like to sign up with your child's specials teacher please sign up below using their links:
PE with Mr. Fee: linked here.
Music with Mrs. Rahm: linked here.
Guidance with Ms. Hewitt: linked here.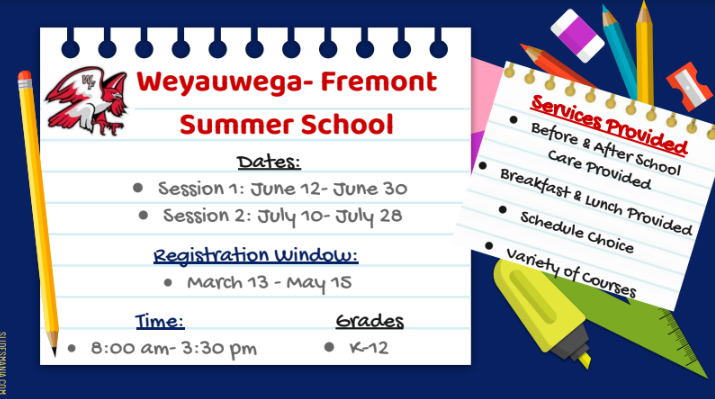 The Little Caesar's PIZZA FUNDRAISER has been extended to March 6th, 2023!!!
Reminder: This year our Fremont Elementary School goal is to sell 400 pizza kits!
If we meet our goal, not only will PTA host a school wide pizza party, but Mr. Ryan has agreed to dress up as the Little Caesar man for the party and one lucky student will be picked from a drawing to get to throw a pie at Mr. Ryan! If your student sells at least ONE pizza kit their name will be entered into this drawing. If you have a family account and one kit is sold, all students in the family will be entered into the drawing.
Set up your account at the link below!
https://fundraising.littlecaesars.com/.../691b1541-9746...
Important upcoming dates:
3/6: Little Caesar fundraiser ends
3/9-3/15: Scholastic Book Fair in the Fremont Elementary office during school hours.
3/9: No School- Parent Teacher Conferences
3/10: No School- Teacher In Service
3/11: Community Movie Night- The Incredibles. At the Weyauwega high school PAC. Doors open at 5pm, movie begins at 5:30pm.
3/14: Mr. Science/Lyceum at the Weyauwega Middle School K-2nd- 9am-10am experience. 3rd-STEM- 1pm-2pm experience.
3/14: Fremont Elementary PTA meeting at 5:30pm in the Fremont Elementary Library
3/16: 3rd-5th CWES field trip (rescheduled from 2/22)
3/29: End of 3rd Quarter
4/5: No School- Teacher In-service
4/6 -4/10: No School- Spring break
4/28: Art Show- 5pm-7pm: in the Middle School Commons.
5/5: Color Run
5/18: Spring concert- at 1:30pm